What is PneuLINK™?
PneuLINK™ is our 'linear to rotary' integrated control platform.
The PneuLINK™ linear system is manufactured from 316 stainless steel and brass materials. The ergonomic design ensures an easy set up, trouble free installation and maintenance free operation.
The PneuLINK™ dynamic mechanism is both self-compensating and self- aligning, with minimal backlash and hysteresis, for high repeatability and total reliability!
From this traditional solution….

- Multiple junction boxes
- Exposed switches/sensors
- Exposed and untidy wiring
- Higher installation costs
- Potential safety hazards
- Higher site maintenance regime

To the PneuLINK™ system….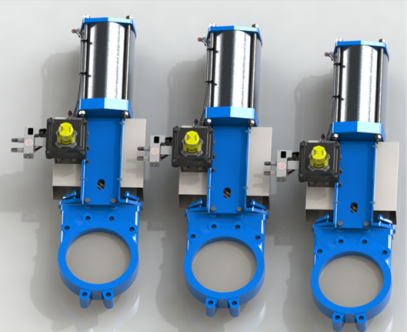 - Compact fully integrated switches & solenoid(s)
- Reduction in cable, glands and wire runs
- High visibility open /closed visual indicator
- Removes engineering from the installation team
- Easy, trouble free installation / commissioning
- Increased durability and reliability
- Ease of standardisation

Click here to download pdf version
To find out more about how Pneuton™ could be working with you to specify, implement and support your Valve Automation and Control System products call us now on 01243 860 664 or email us at webenquiries@pneuton.co.uk